At Full Circle Health Center, we care for the whole person: body, mind, and spirit. We believe that each patient is a unique individual with needs that deserve personalized treatment.
Full Circle is a center for a group of health care practitioners who use a variety methods and techniques for helping our clients. We strive to maintain a peaceful and safe environment for ourselves and the individuals with whom we work.
We at Full Circle Health Center share the philosophical foundation that a sacred healing presence resides within everyone. We assist you in reconnecting with your own innate healing energies; to guide choices for improving well-being of body, mind, and spirit; to support your commitment to nourish yourself wisely; and to collaborate when indicated with an interdisciplinary team of healthcare providers.
Enter your state of optimal health!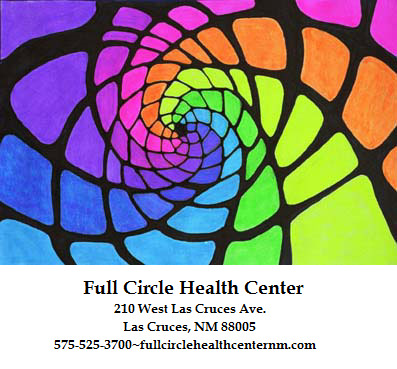 New patients are currently being accepted

Member of American Holistic Nurses Association
Member of Institute of Noetic Sciences

Call for an appointment:

Full Circle Health Center
210 W Las Cruces Ave
Las Cruces, NM 88005
575.525.3700